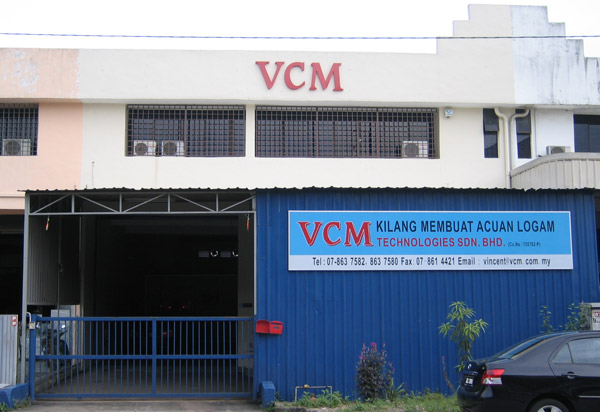 We, VCM PRECISION INDUSTRIES PTE LTD, are proud to be the leading distributor of standard components of Press die, Plastic Mold and Factory Automation and Semi conductor products in Singapore and Southern Malaysia market.

We started our office here in 2001 with only 4 staff serving limited local in Singapore and year 2003 in Southern Malaysia customers. Over the years, we have expanded our business to include customers in oversea which is Batam and Jakarta Indonesia

Right now, we have a team of 12 members to provide our customers with the highest quality products and the fastest delivery service in Singapore and Malaysia.

We hold a comprehensive range of press die, plastic mould and factory automation component products. We would like to let customer having a one-stop solution to purchase all the necessary components that they need.



Since January 2001, as founder of  VCM PRECISION INDUSTRIES PTE LTD, we are proud to be the serving distributor of standard components of press die , plastic mold and office automation parts.

Established in 2001, we have always offer quality products at the most competitive price to our customers. Our business growth in the past 7 years has been remarkable, and we could not have achieved it without your valuable support from our value customer.

Since assuming my current position, it has been a really challenging job for me to understand the business of the local and overseas market and this has been an enriching experience for me and also understanding of the market needs.

In VCM group, we have created our business concept, – it's all about TIME and Service. This expresses our stance as a " Server Innovator " that consistently brings innovation to the areas of quality, cost and time. We are constantly in search of the best quality products at the most favourable price for our customers.

While serving my term as Director of  VCM GROUP, I will ensure to better understand your needs and hope that we can work together towards contributing to your company's growth.

I hope to contribute within my best means in strengthening our business relationship now and forever.



Vincent Ng

Director
VCM PRECISION INDUSTRIES PTE LTD / VCM TECHNOLOGIES SDN BHD